MANAGED VULNERABILITY SCANNING
Understanding your assets, risks and threats
Being able to identify your vulnerabilities before they are exploited is crucial in today's connected world. Every year, thousands of vulnerabilities are discovered and organisations scramble to stay on top of them.
Nettitude is an award-winning cybersecurity organisation with unparalleled capability in delivering vulnerability management services. With our global Security Operations Centres (SOCs) we provide 24/7 services that secure our clients and detect and respond to sophisticated cyber-threats, providing assurance that your organisation is protected.
What is Managed Vulnerability Scanning?
Vulnerability scanning is the examination of IT systems and networks to identify security weaknesses that can leave an organisation exposed and vulnerable to a cyber-threat.
Vulnerability scanning is completed by a highly specialised software tool that interrogates IT systems to collect data which is then compared to a database of known flaws or vulnerabilities.
Managed Vulnerability Scanning is a fundamental component of any security testing programme for identifying existing or new vulnerabilities and misconfigurations across your systems.
Failing to understand and remediate the vulnerabilities you have within your environment could present an attacker the opportunity they need to gain access to your systems.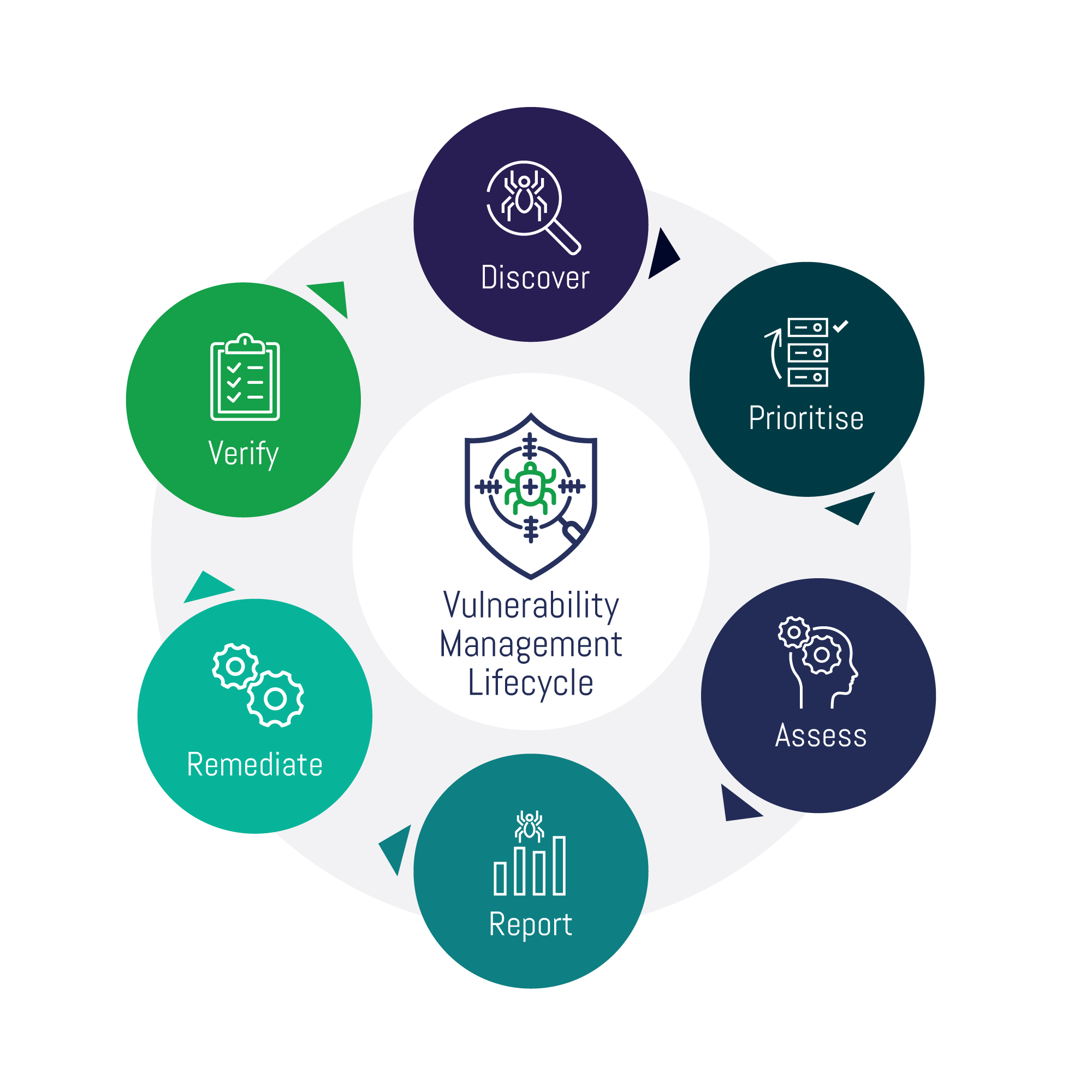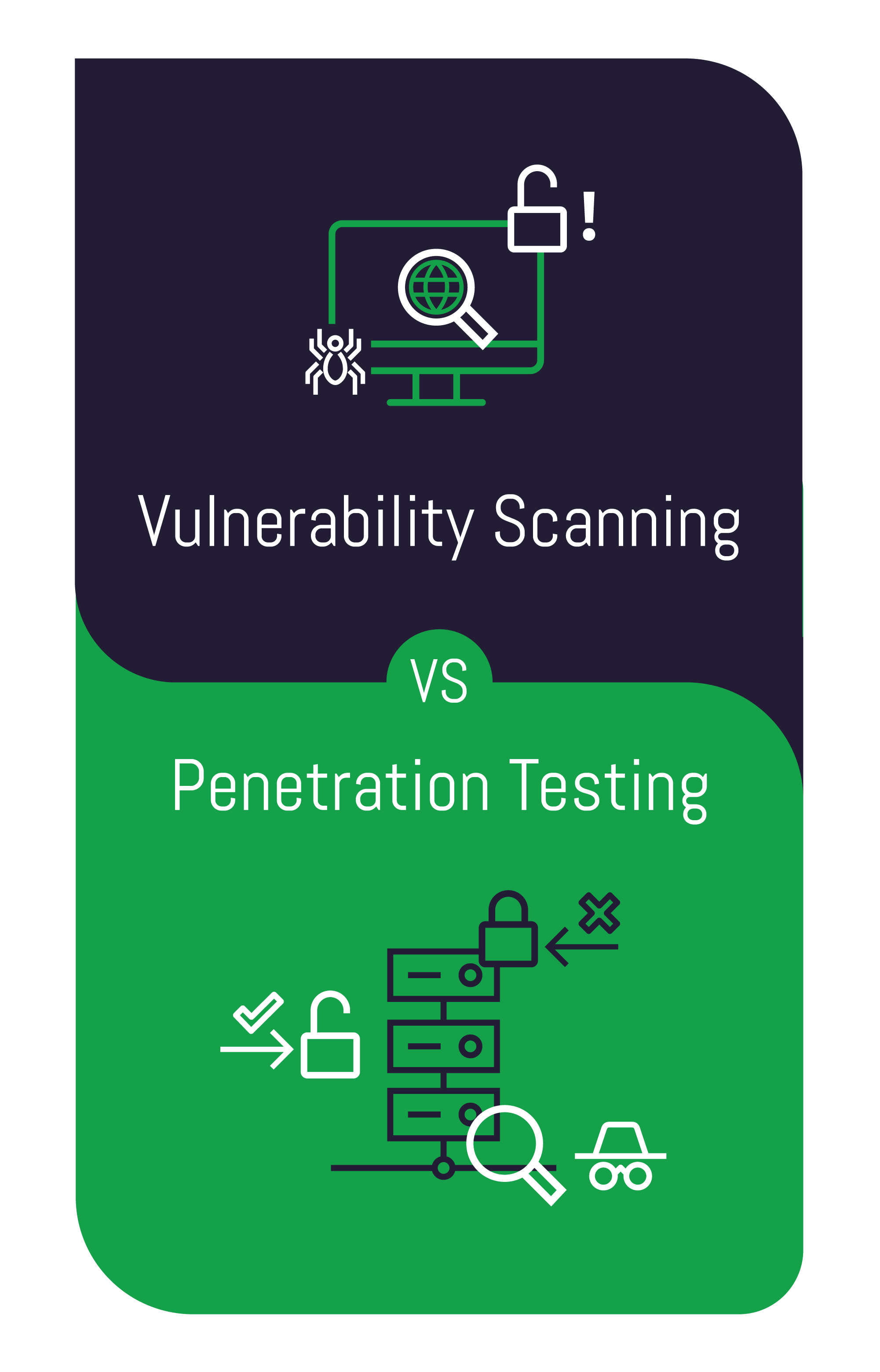 Vulnerability Scanning vs Penetration testing
What are the differences between Vulnerability Scanning and Penetration Testing?
Vulnerability scanning identifies vulnerabilities within an environment and is much wider in scope than penetration testing. It is used to estimate how susceptible the environment is to different vulnerabilities. Vulnerability scanning uses automated tools that scan an environment on a regular and repeatable basis to generate a report based upon risk exposure.
Vulnerability scanning does not try to exploit the vulnerabilities and is normally non-intrusive.
Penetration testing goes beyond vulnerability scanning. It attempts to identify and then actively exploit unknown weaknesses or vulnerabilities within an environment and is much more rigorous than vulnerability scanning, penetration testing is not normally an automated process and involves human interaction to a targeted scope. Penetration testing is normally performed infrequently, a few times a year, to a set schedule.
Both vulnerability scanning and pen testing are critical to ensure a comprehensive view of threats and vulnerabilities your organisation could be facing.
Benefits of Managed Vulnerability Scanning
There are many benefits of having vulnerability management capability in place to help protect your environment and provide a proactive stance against threats to your organisation:
Improved security and control

Fast identification of vulnerabilities before external threats can take advantage of them

Continuous threat visibility and reporting across your environment – all of the time

Eliminate blind spots across your environment

Contributes to meeting compliance, governance, and data protection requirements

Operational efficiencies – scanning is repeatable, automated, and efficient meaning you get repeatable results

Vulnerability prioritisation – know what to remediate first

Patch management – vulnerability scanning can enhance and evolve your existing patch management program
Managed Vulnerability Scanning Service Features
Nettitude's Managed Vulnerability Scanning service provides the most highly accredited expertise combined with Gartner Magic Quadrant leading security technology to deliver industry-leading protection for your organisation.
Our approach is proactive, and threat led; informed by our offensive and threat intelligence teams to shape our defensive stance and protect against the latest industry threats, providing in-depth unrivalled detection and alerting capability where it is needed most.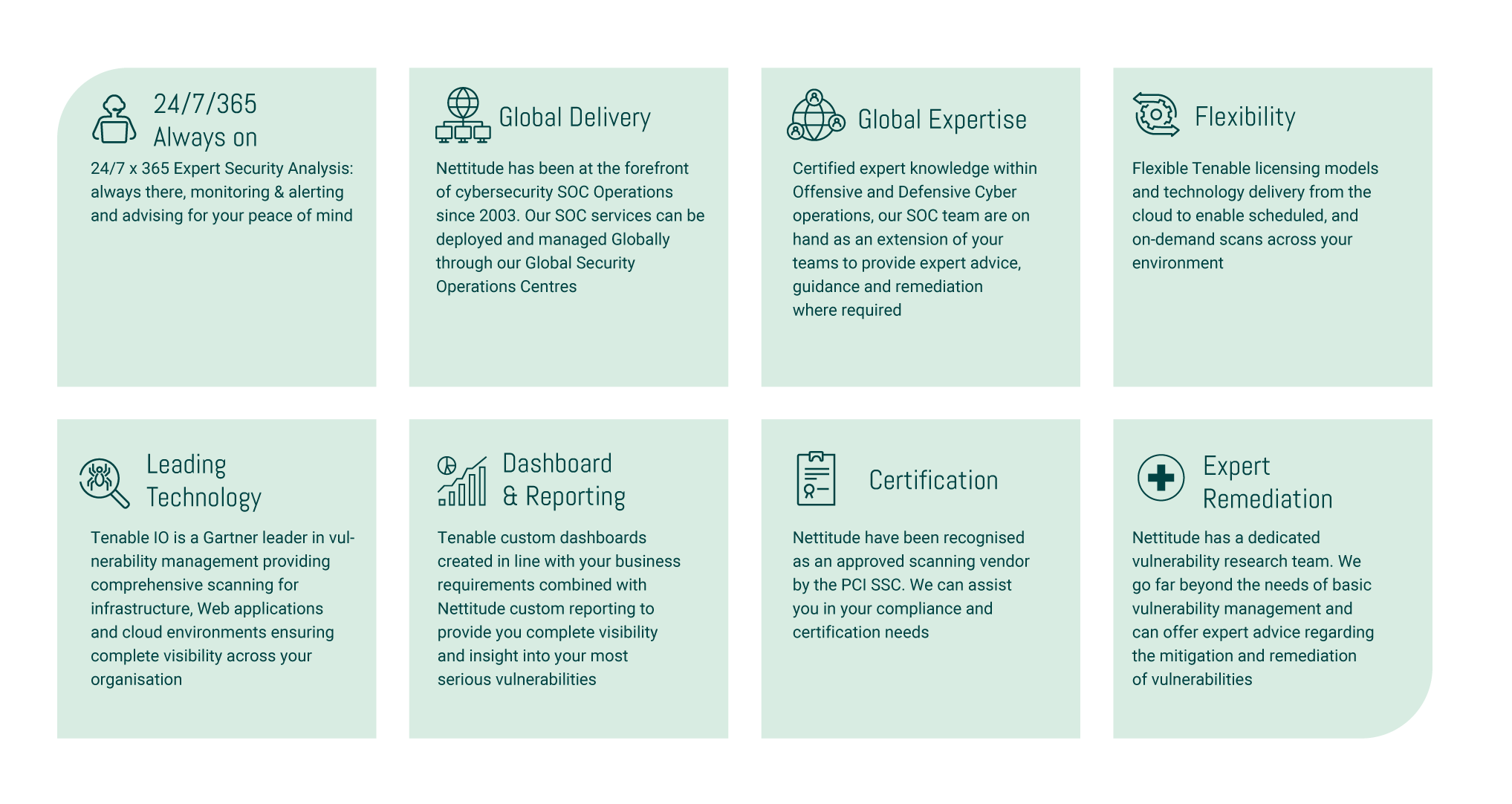 Frequently Asked Questions About Healthcare Cybersecurity
What does penetration testing involve?
In penetration testing for healthcare organisations, our experts simulate a hacking environment to identify any vulnerabilities within your system. Ethical hackers will penetrate the healthcare system like a threat actor would, but leave your data intact. They will create a report of these vulnerabilities and offer advice on how to eliminate them so your data remains secure. 
How do you create an effective cybersecurity strategy for a healthcare organisation?
To create an effective healthcare cybersecurity framework, Nettitude recommends first identifying what your aims are and what you are trying to protect. This will determine your strategy. Then, you can decide on a framework from three broad types: control, programme, and risk frameworks. From here you can define your risk assessment goals and implement security controls. Our experts at Nettitude can assist you with this process. 
What is the biggest risk in healthcare cybersecurity?
One of the biggest risks in healthcare cybersecurity is Internet of Things (IoT) devices. The internet-connected implements are vital to many hospital and healthcare functions, so much so that they have their own term: Internet of Medical Things (IoMT). These often centralise data collections for easy access, so when these are hacked, it can be very damaging. You can increase your IoMT security by educating your staff, monitoring the network, using VLANs, and devices that meet certified IoT standards.