MANAGED SIEM SERVICES
Always watching what matters most
A managed Security Information and Event Management (SIEM) service provides a level of visibility and security that can be difficult to maintain in-house, both in terms of availability and expertise.
The LRQA Nettitude Managed SIEM service can be utilised for organisations that have limited resources and expertise to assist with the provision, management, monitoring, and integration of SIEM technology to provide world-class capability in detection and response.
LRQA Nettitude is an award-winning cybersecurity organisation with unparalleled capability in delivering managed security services. Through our global managed Security Operations Centres (SOCs) we deliver round the clock services that secure our clients and detect and respond to sophisticated cyber-threats, providing assurance that your organisation is protected.
What Is SIEM And How Does It Work?
A SIEM provides an organisation with next-generation, unrivalled capability in detecting, analysing, and responding to security events and threats.
Next-generation SIEM systems combine Security Information Management (SIM) and Security Event Management (SEM) to provide real-time analysis capability of security alerts generated through collecting data, logs, and information from IT systems, applications, and network hardware.
SIEM software works by matching events against rules and analytics engines. It then indexes them to enable rapid search capability to detect, analyse, and respond to sophisticated threats and cyber-attacks using globally gathered intelligence.
This capability enables highly skilled security operations staff to track and record activity across an organisation's environment and IT systems through data analysis, event correlation, event and log aggregation and management.
These functions combined with reporting, automation, and orchestration provide a powerful security defence and monitoring capability required to protect against advanced threats.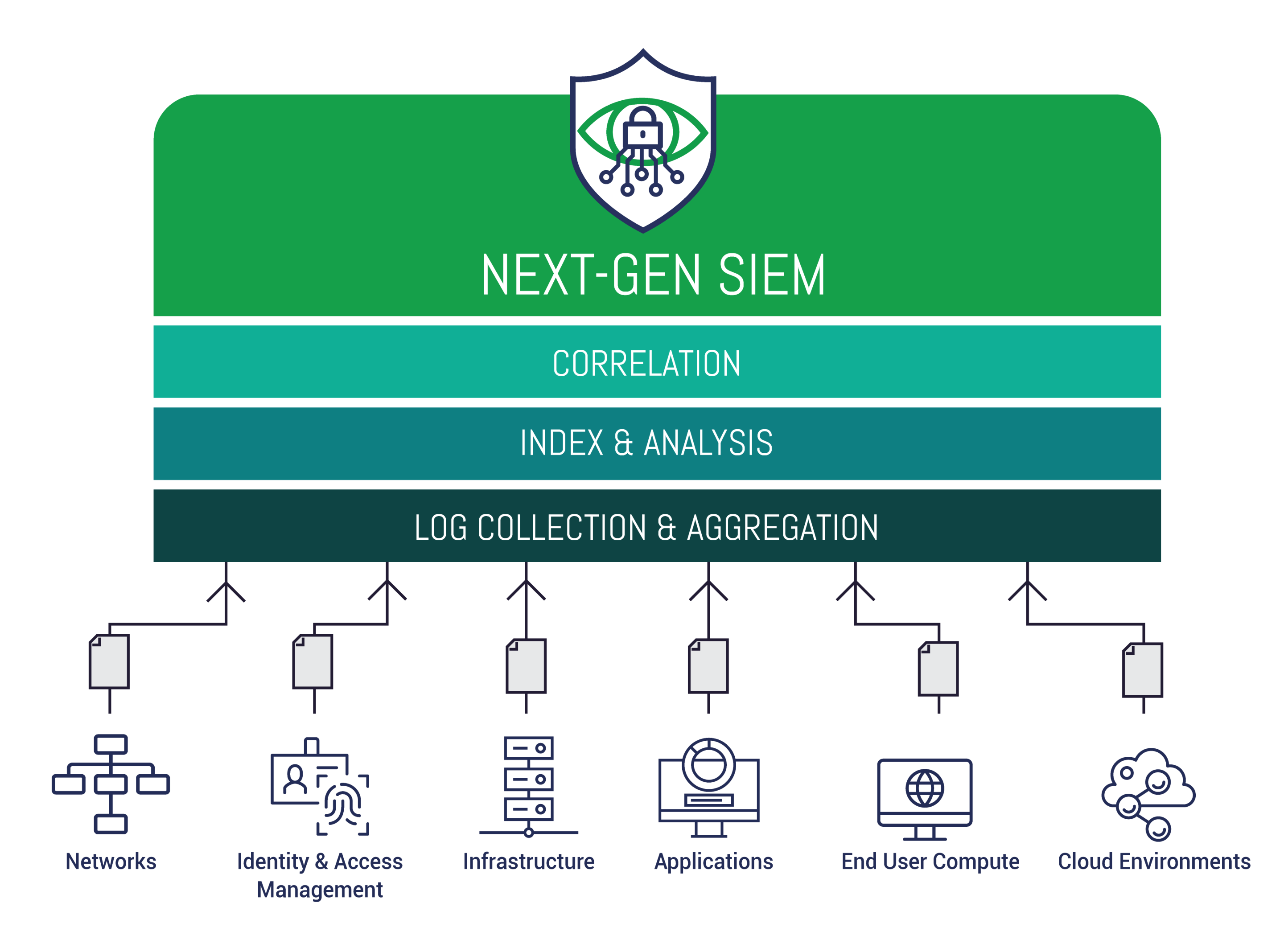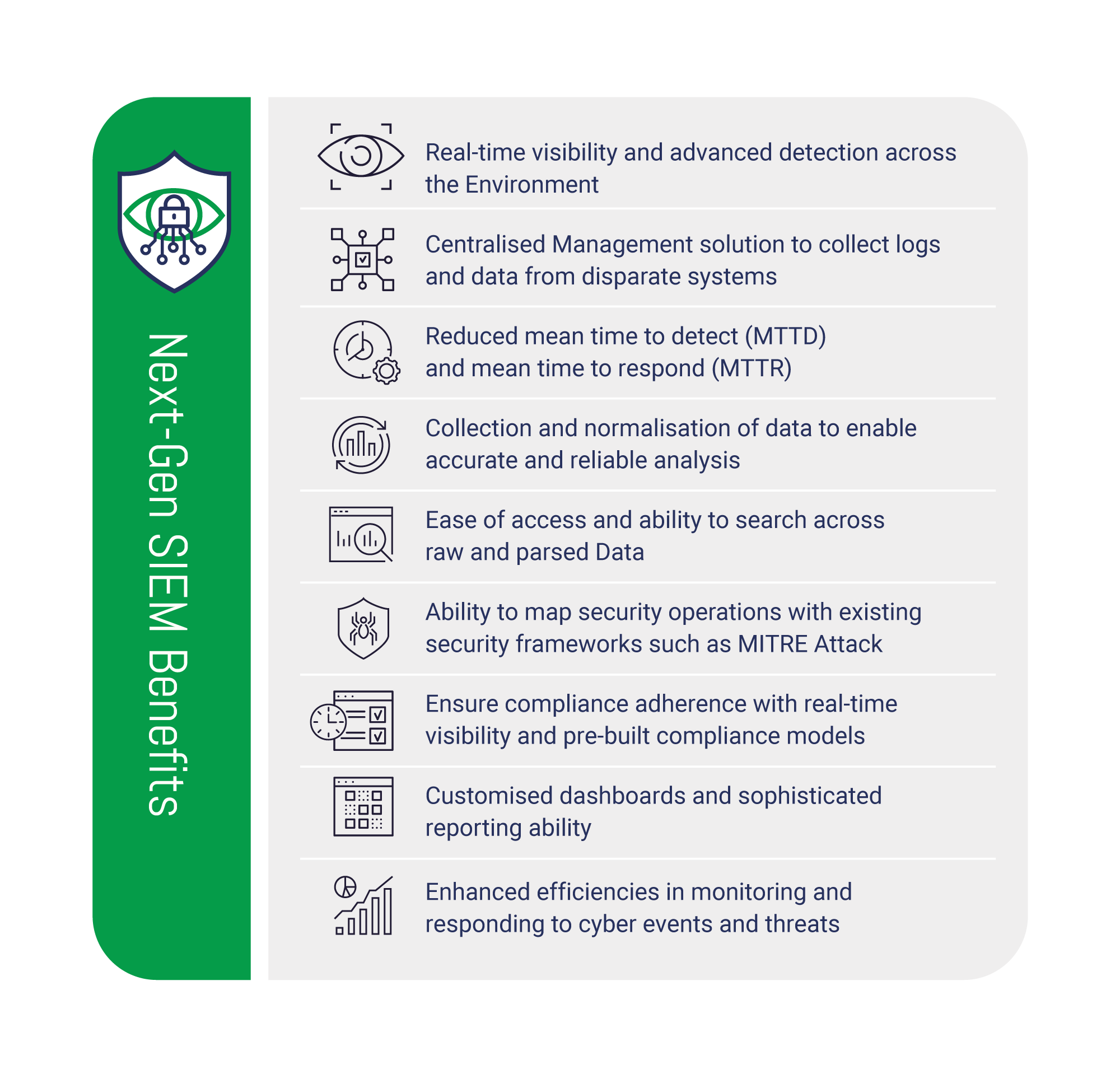 Benefits Of Next-Generation SIEM
In today's interconnected world, it is increasingly difficult for organisations to protect their data, as technology continues to rapidly evolve and change the working practices of organisations and people. This is where managed SIEM services come into play.
SIEM Technology And Features
LRQA Nettitude leverages next-generation SIEM technology provided by LogRhythm to deliver comprehensive logging, monitoring, and alerting capabilities. LogRhythm is an industry-leading and award-winning provider of security monitoring solutions.
We can provide SIEM PaaS (Platform-as-a-Service) where organisations do not have an existing SIEM solution. We can support your current LogRythm on-premise deployments in a hybrid model working as an extension to your organisation's security team.
LRQA Nettitude is the current LogRhythm MSSP partner of the year and has won this accolade three times since 2016. Our most recent achievements have seen us win this award for two consecutive years due to our outstanding ability in integration, customisation, and application of the LogRhythm technology.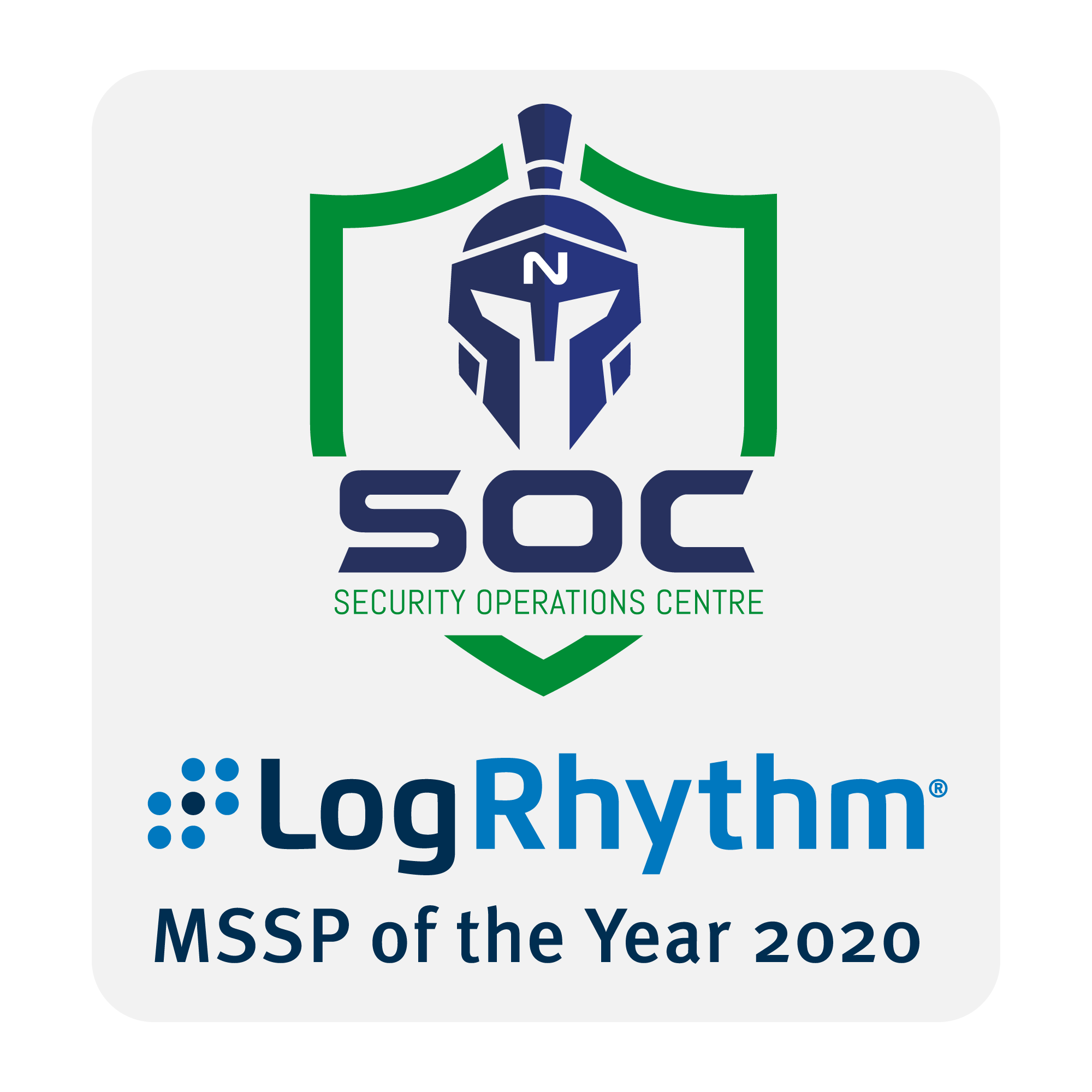 LogRhythm is an enterprise-class solution that seamlessly combines SIEM, log management, file integrity monitoring, and machine analytics with host and network forensics in a unified Security Intelligence Platform.
It is designed to address an ever-changing landscape of threats and challenges with a full suite of high-performance tools for security, compliance, and operations.
LogRhythm delivers comprehensive, useful, and actionable insight into what is really going on in and around an enterprise IT environment including the below functionality:
Advanced intelligence engine
Log collection technology to cover any environment or system
Log management
File Integrity monitoring
Case management
User & Entity Behaviour Analytics (UEBA)
Endpoint monitoring
Smart response and automation
Reporting and compliance for PCI DSS, HIPAA, GDPR, ISO27001 and other major compliance frameworks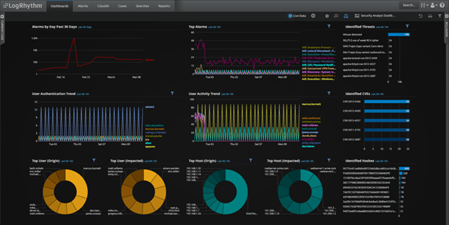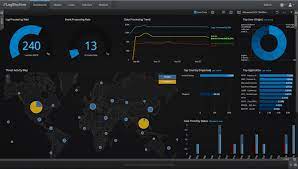 Managed SIEM Service Features
LRQA Nettitude's managed SIEM services provide the most highly accredited expertise combined with Gartner Magic Quadrant leading security technology to deliver industry-leading protection for your organisation.
Our approach is proactive, and threat led; informed by our offensive and threat intelligence teams to shape our defensive stance and protect against the latest industry threats, providing in-depth unrivalled detection and alerting capability where it is needed most.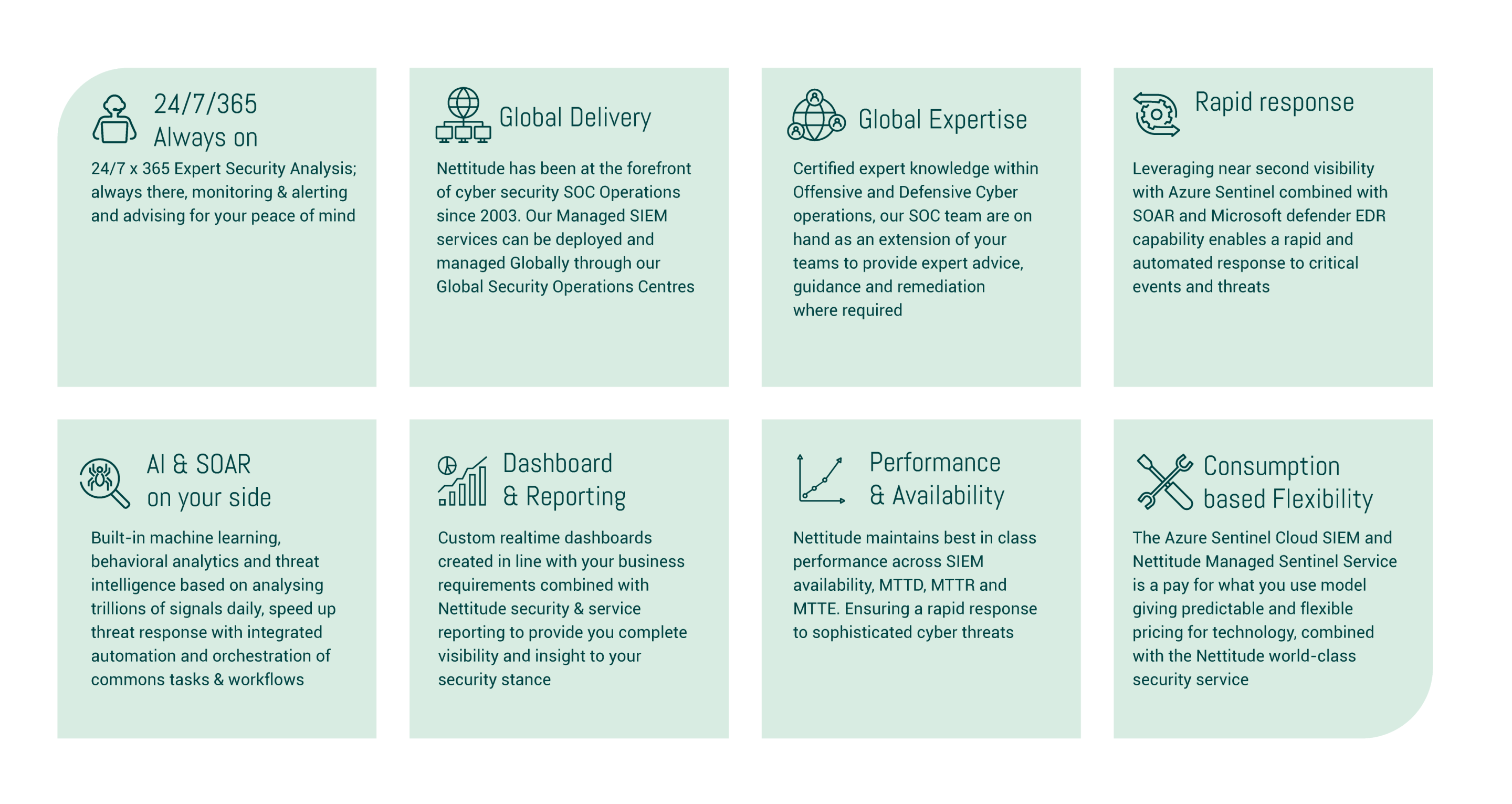 LRQA Nettitude Value Proposition
The LRQA Nettitude SOC provides advanced 24/7 monitoring and alerting to protect your business.
We use our custom developed Aperture Cyber Operations Management platform integrated with leading Gartner technologies to provide enhanced automation, orchestration, and response capabilities to our SOC team.
The Aperture Cyber Operations platform provides enhanced enrichment, analytics, and intelligent learning to increase early visibility and response of cyber-threats in an evolving world.
By combining these technologies with our highly accredited people and processes we deliver best in class outcomes and value for your organisation.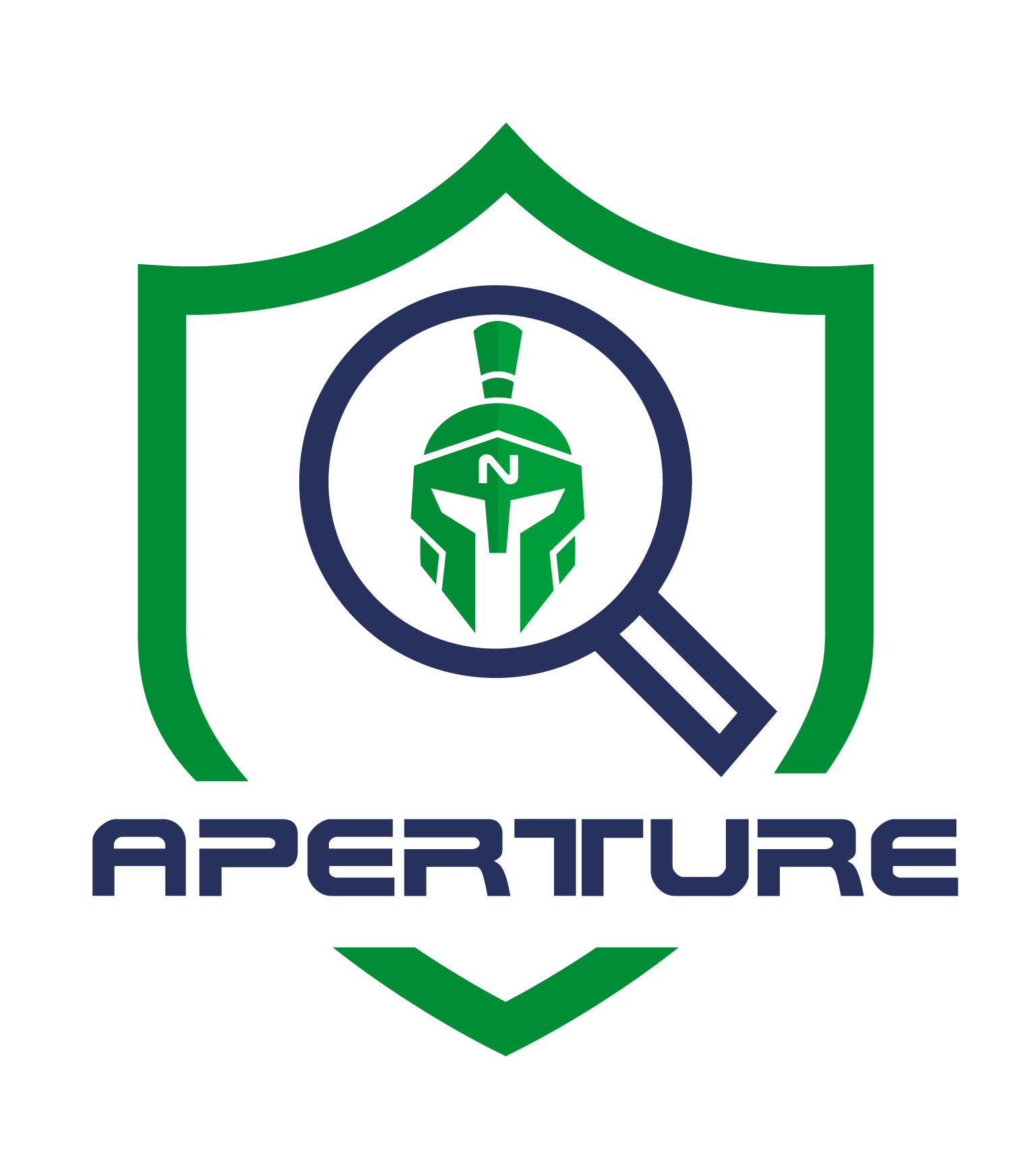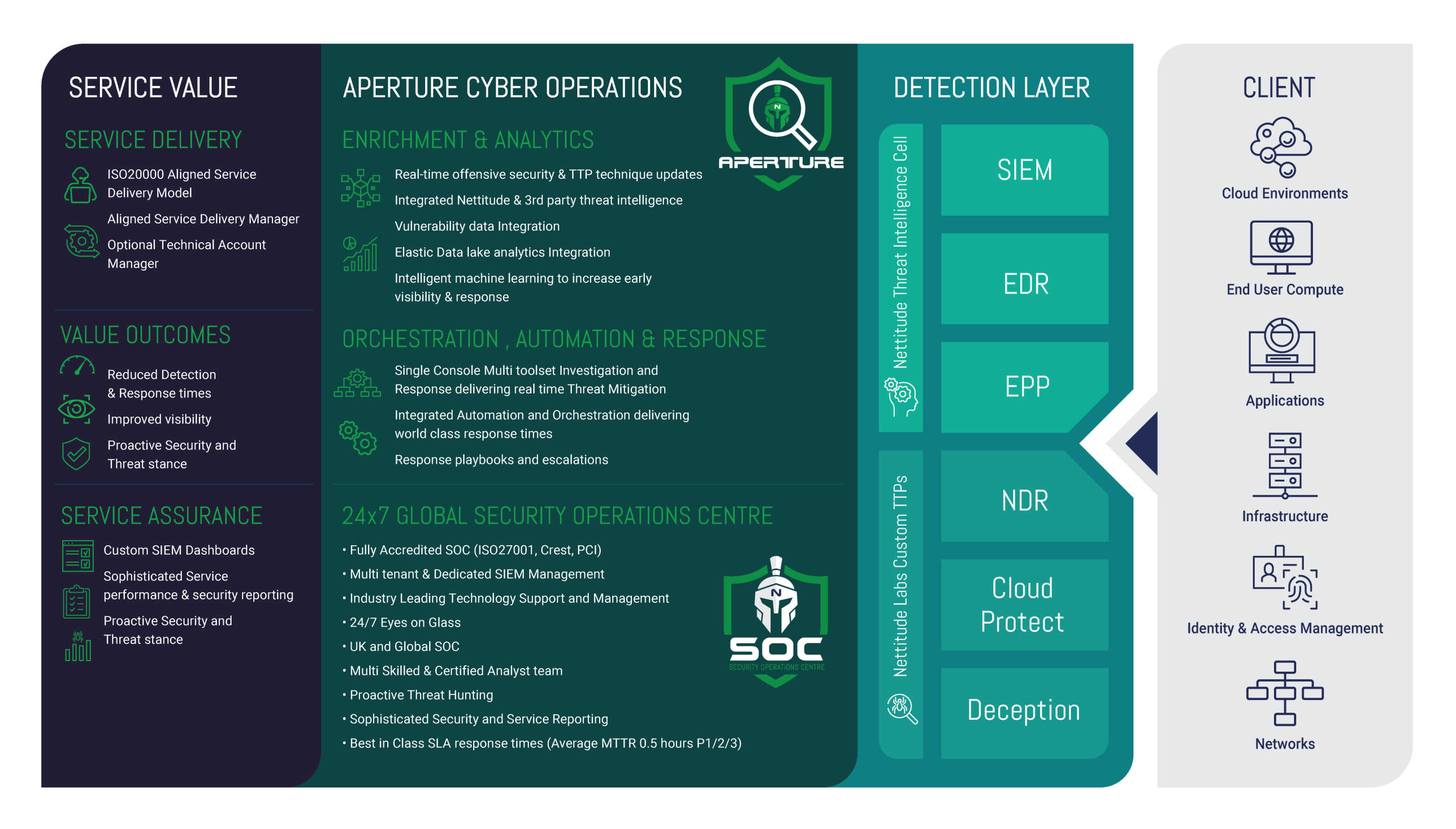 Frequently Asked Questions about Data Privacy Security
What is an incident response policy?
An Incident response plan or policy is a process you create before you experience a cyberattack. This is so that your team has a procedure to follow when you do experience a data breach. LRQA Nettitude follows the CREST Cybersecurity Incident Response process which is broken down into 3 phases: preparation, response, and follow up. Having a breach plan gives you the confidence to quickly nullify any threat to your data privacy security.
Why is data privacy security important?
Although it has always been important, the implications and need for higher security are coming into play now that technology is indispensable to everyday life. Using apps, browsing websites, and shopping online are all examples of how your data will be stored and managed online. For organisations today, the threat of cyber theft is a pertinent one. Having comprehensive data privacy plans in place can reduce and mitigate the risks of such events.
Does LRQA Nettitude practice sustainability?
As a company with a global footprint, sustainability is an area of importance to us. We are a registered 'Investor in People' organisation. Taking a cue from ISO 14001, we have strong sustainability practices put in place. Our organisation also hires fairly and equally, across gender and race. By working with us, you can rest assured that we implement data privacy security measures with ethics at the core of our mission.
Get in touch via the form below and get a free quote from us for our Red Team Security Testing services.