CYBER INCIDENT RESPONSE SERVICES
Ready for the inevitable? Be prepared with a LRQA Nettitude Incident Response Retainer.
LRQA Nettitude provides a Managed cyber Incident Response (IR) retainer tailored to suit the needs and threats your organisation could be facing. Using leading industry technology and certified experts, the LRQA Nettitude cyber incident response team manages, contains, remediates, and reports on cyber incidents. Importantly, a Managed cyber Incident Response retainer gives you assurance when you most need it.
The cost of an average data breach is $3.86 million. The average resolution time is 280 days. Proper incident response management helps reduce the impact of a cyber-breach by immediately sending triage to your organisation.
As cyber-threats evolve at pace around the world, the likes of ransomware, malware, and insider threats pose a serious risk to organisations. Especially when they go undetected for a while.
Once a breach is identified, time is of the essence and having experts on hand to control the damage is vital to getting your systems back on the road to recovery.
Benefits of a LRQA Nettitude Cyber Incident Response Retainer
Cyber incidents are only a matter of time. LRQA Nettitude's experienced Cyber Incident Response Team (NCIRT) is committed to helping you at every stage of the incident response lifecycle. From preparation, eradication, and remediation, through to lessons learnt.
As part of our Managed Incident Response, we provide a full range of tactical and strategic solutions tailored to your environment and organisational needs ensuring a robust security posture when you need it the most.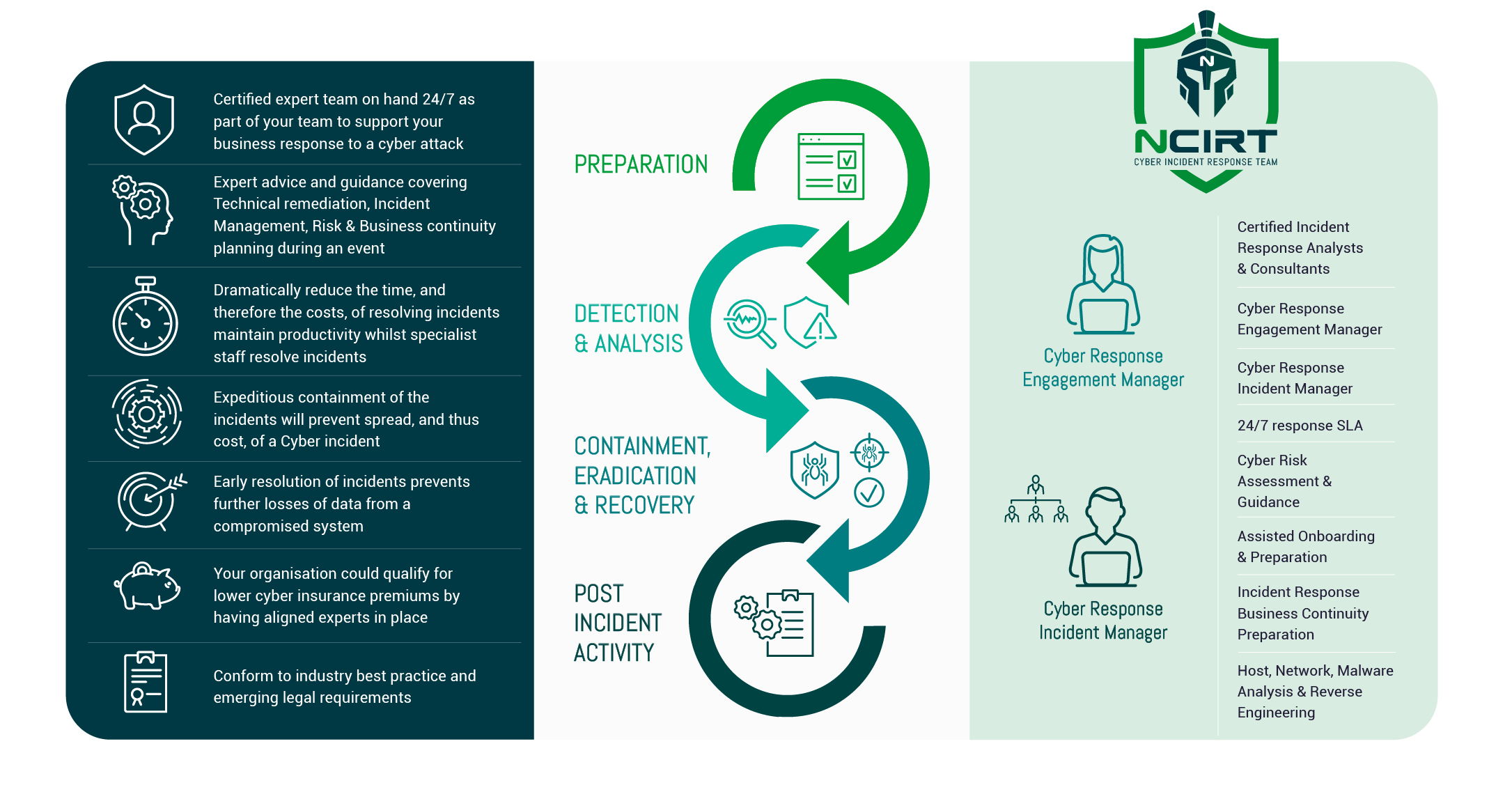 Incident Response Service Features
We provide a full range of tactical and strategic solutions tailored to your environment and organisational needs ensuring a robust security posture when you need it the most. Managed Incident Response is there to help you get back to normal operations quickly with confidence.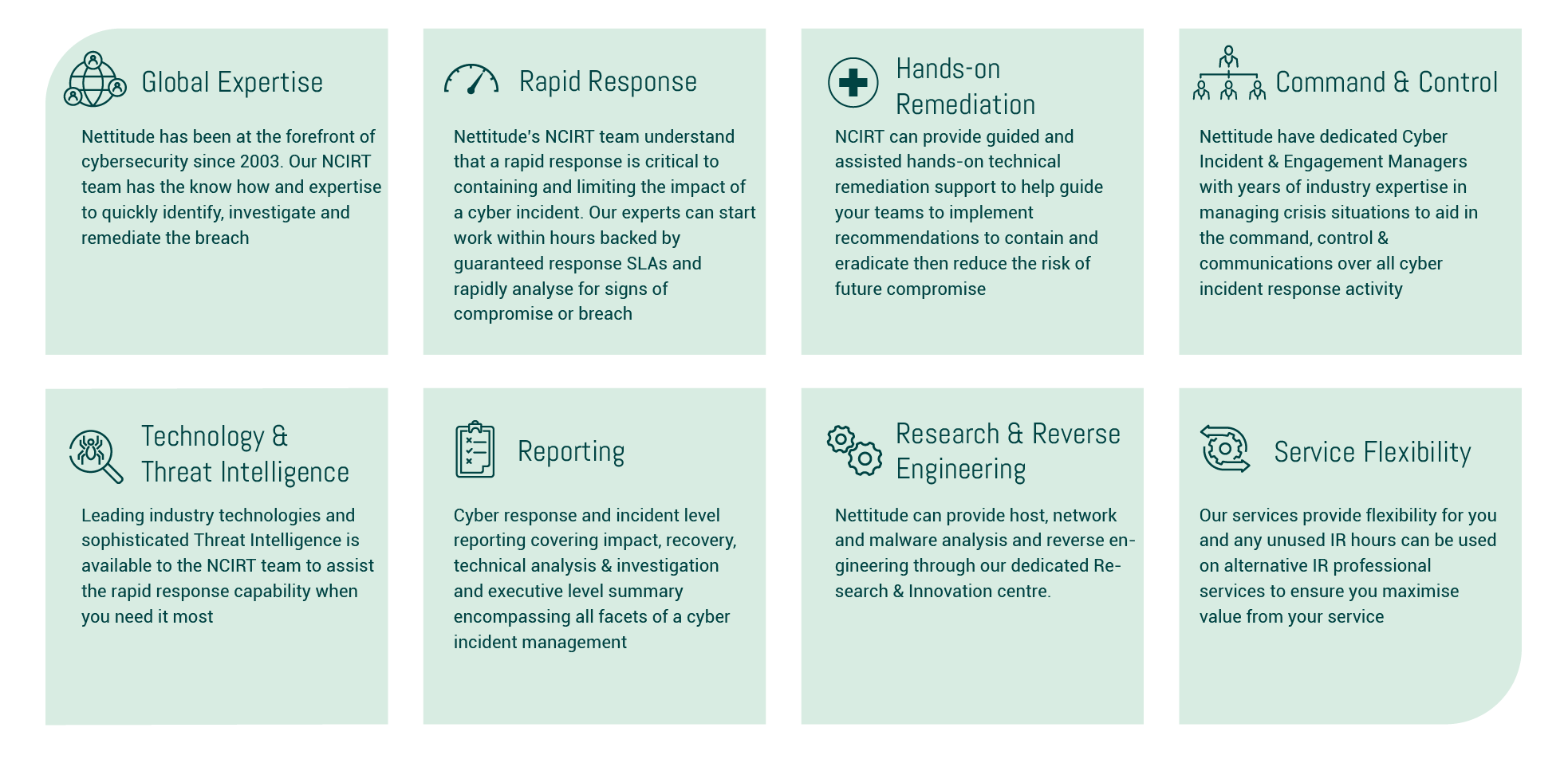 Incident Response Service Options
LRQA Nettitude's NCIRT works with you regardless of your budget, environment, or organisation size. We ensure you get the right care and readiness you need ranging from a basic IR consultation triage service to premium level services with guaranteed service level agreements (SLAs) and flexible consumption models.

*Prepaid IR consult hours can only be used for IR Triage hotline activity and not DFIR services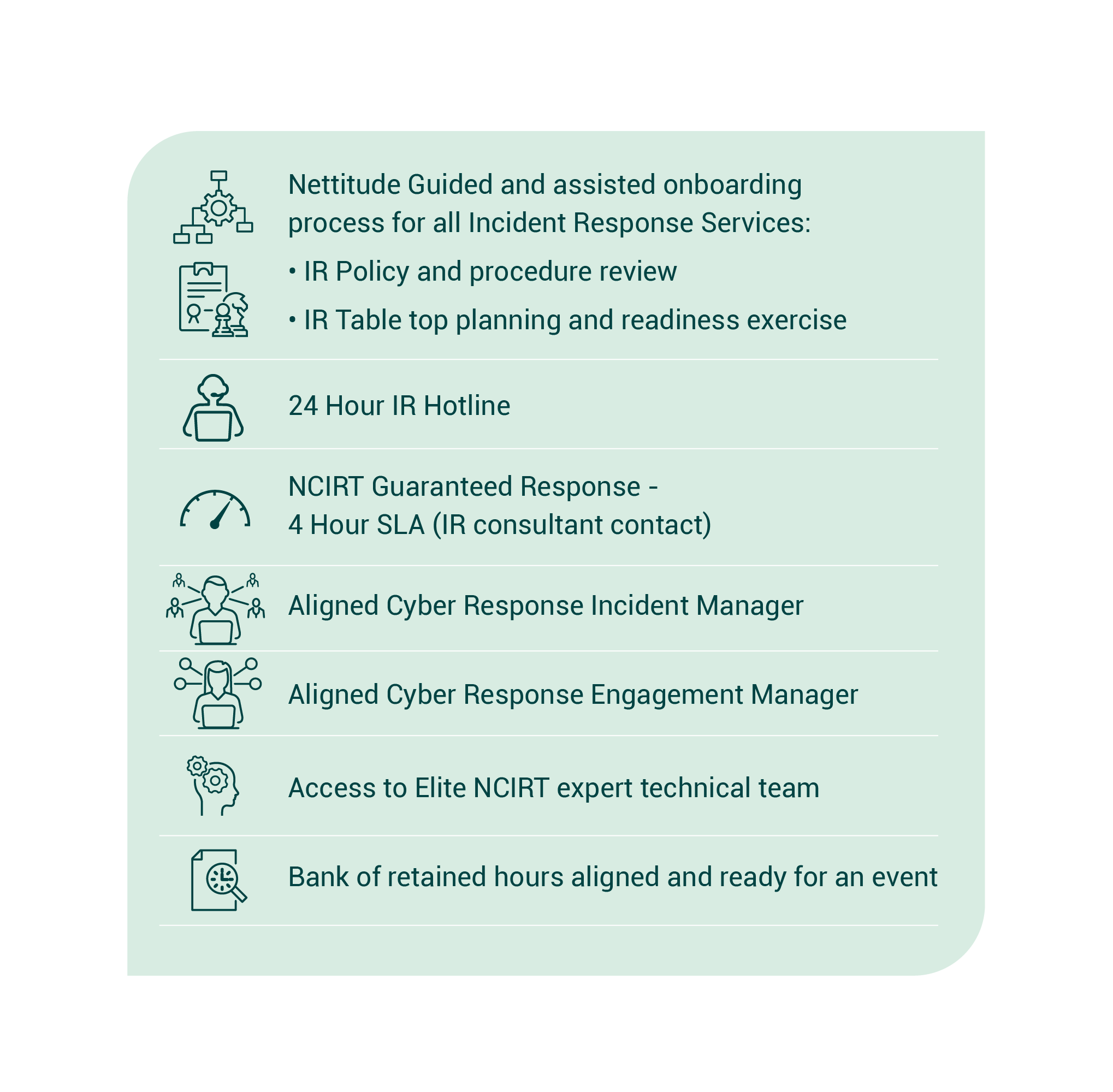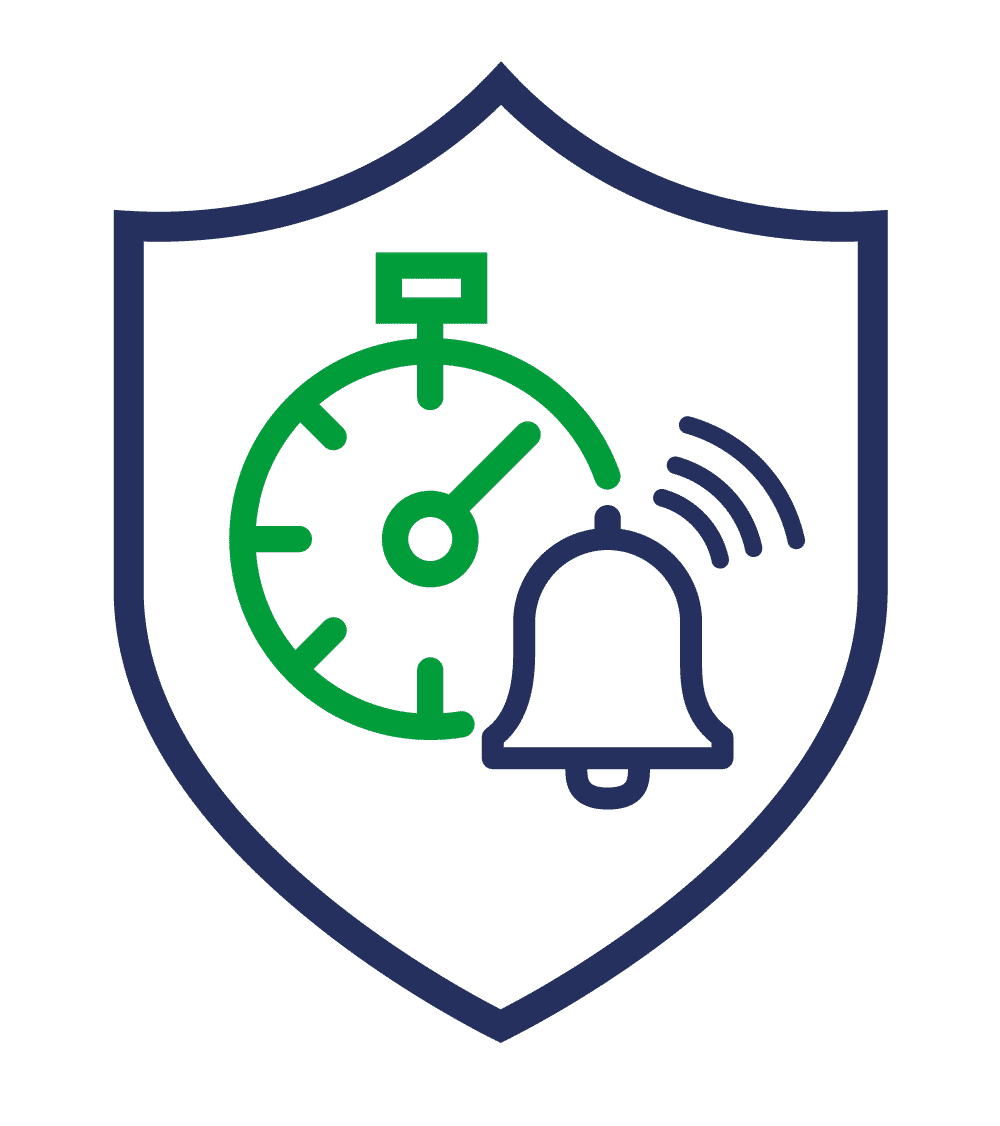 Proactive & Professional Services
LRQA Nettitude's proactive Incident Response services help to evaluate your current Incident Response strategies and help you prepare no matter what stage or maturity level you are currently at. You can also use unused IR days against these proactive services ensuring you get the best value for your investment.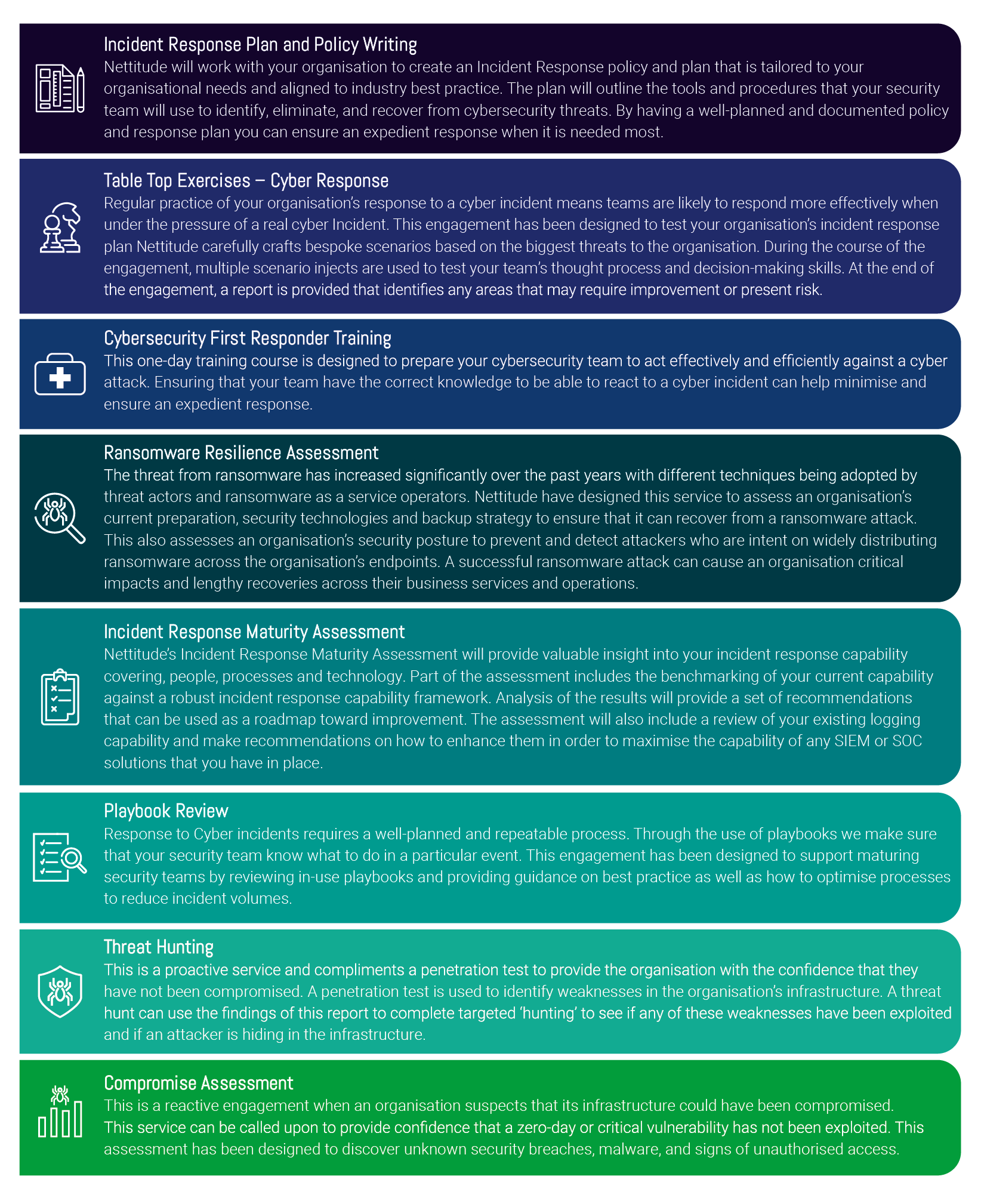 Frequently Asked Questions about Data Privacy Security
What is an incident response policy?
An Incident response plan or policy is a process you create before you experience a cyberattack. This is so that your team has a procedure to follow when you do experience a data breach. LRQA Nettitude follows the CREST Cybersecurity Incident Response process which is broken down into 3 phases: preparation, response, and follow up. Having a breach plan gives you the confidence to quickly nullify any threat to your data privacy security.
Why is data privacy security important?
Although it has always been important, the implications and need for higher security are coming into play now that technology is indispensable to everyday life. Using apps, browsing websites, and shopping online are all examples of how your data will be stored and managed online. For organisations today, the threat of cyber theft is a pertinent one. Having comprehensive data privacy plans in place can reduce and mitigate the risks of such events.
Does LRQA Nettitude practice sustainability?
As a company with a global footprint, sustainability is an area of importance to us. We are a registered 'Investor in People' organisation. Taking a cue from ISO 14001, we have strong sustainability practices put in place. Our organisation also hires fairly and equally, across gender and race. By working with us, you can rest assured that we implement data privacy security measures with ethics at the core of our mission.
Get in touch via the form below and get a free quote from us for our Red Team Security Testing services.