CYBER INCIDENT RESPONSE SERVICES
Ready for the inevitable? Be prepared with a LRQA Nettitude Incident Response Retainer.
LRQA Nettitude provides a Managed cyber Incident Response (IR) retainer tailored to suit the needs and threats your organisation could be facing. Using leading industry technology and certified experts, the LRQA Nettitude cyber incident response team manages, contains, remediates, and reports on cyber incidents. Importantly, a Managed cyber Incident Response retainer gives you assurance when you most need it.
The cost of an average data breach is $3.86 million. The average resolution time is 280 days. Proper incident response management helps reduce the impact of a cyber-breach by immediately sending triage to your organisation.
As cyber-threats evolve at pace around the world, the likes of ransomware, malware, and insider threats pose a serious risk to organisations. Especially when they go undetected for a while.
Once a breach is identified, time is of the essence and having experts on hand to control the damage is vital to getting your systems back on the road to recovery.
Benefits of a LRQA Nettitude Cyber Incident Response Retainer
Cyber incidents are only a matter of time. LRQA Nettitude's experienced Cyber Incident Response Team (NCIRT) is committed to helping you at every stage of the incident response lifecycle. From preparation, eradication, and remediation, through to lessons learnt.
As part of our Managed Incident Response, we provide a full range of tactical and strategic solutions tailored to your environment and organisational needs ensuring a robust security posture when you need it the most.
Incident Response Service Features
We provide a full range of tactical and strategic solutions tailored to your environment and organisational needs ensuring a robust security posture when you need it the most. Managed Incident Response is there to help you get back to normal operations quickly with confidence.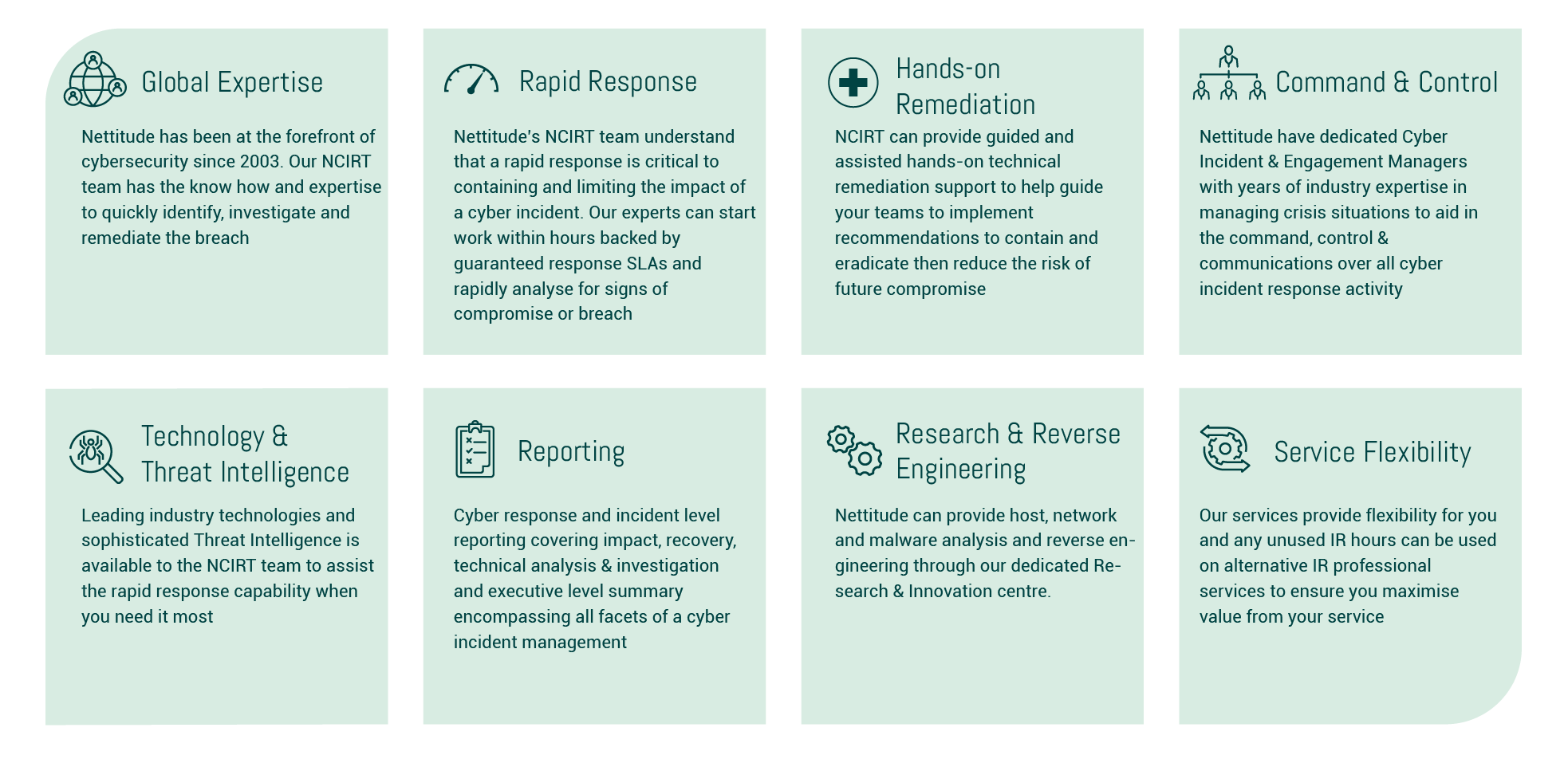 Incident Response Service Options
LRQA Nettitude's NCIRT works with you regardless of your budget, environment, or organisation size. We ensure you get the right care and readiness you need ranging from a basic IR consultation triage service to premium level services with guaranteed service level agreements (SLAs) and flexible consumption models.

*Prepaid IR consult hours can only be used for IR Triage hotline activity and not DFIR services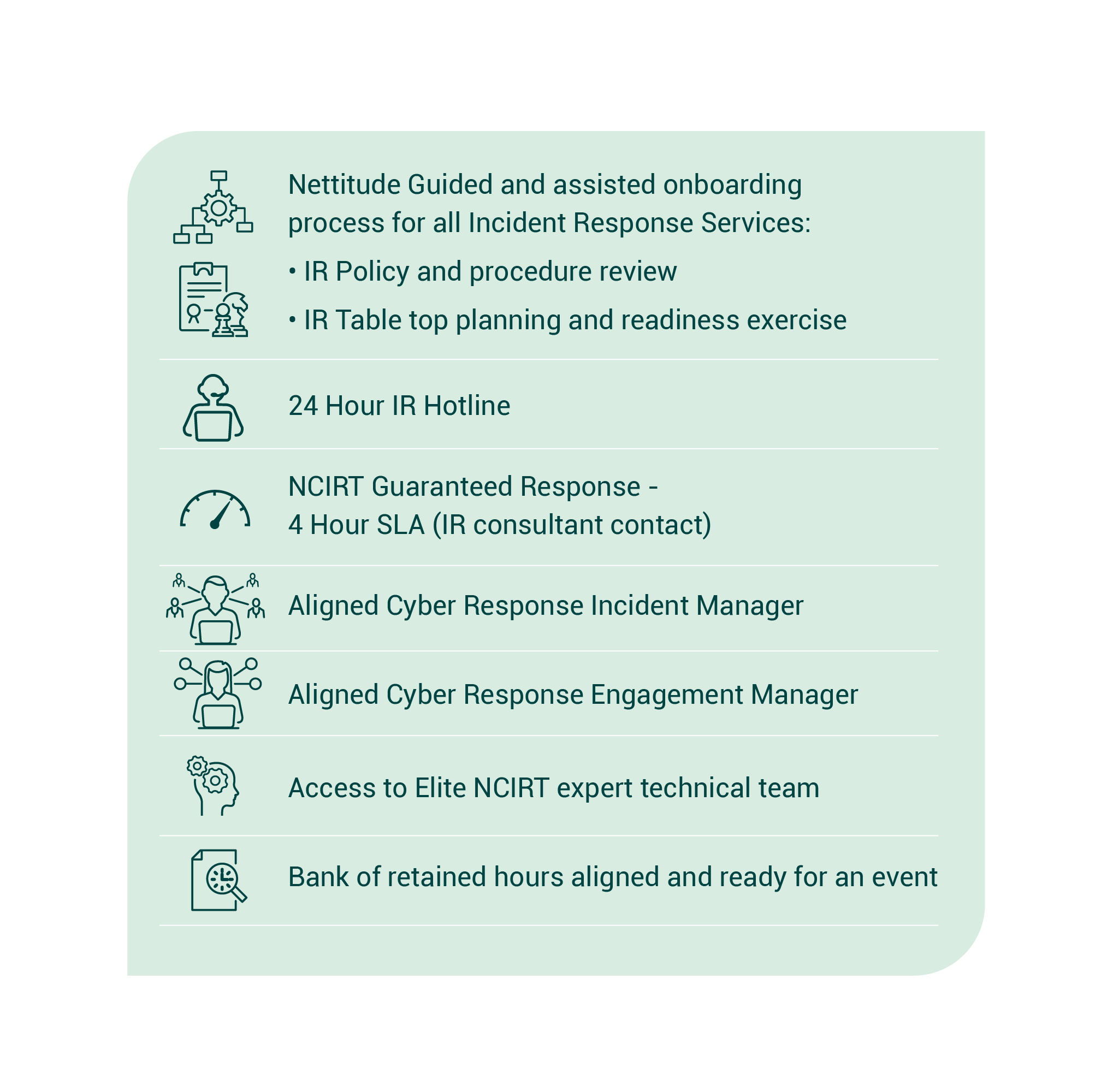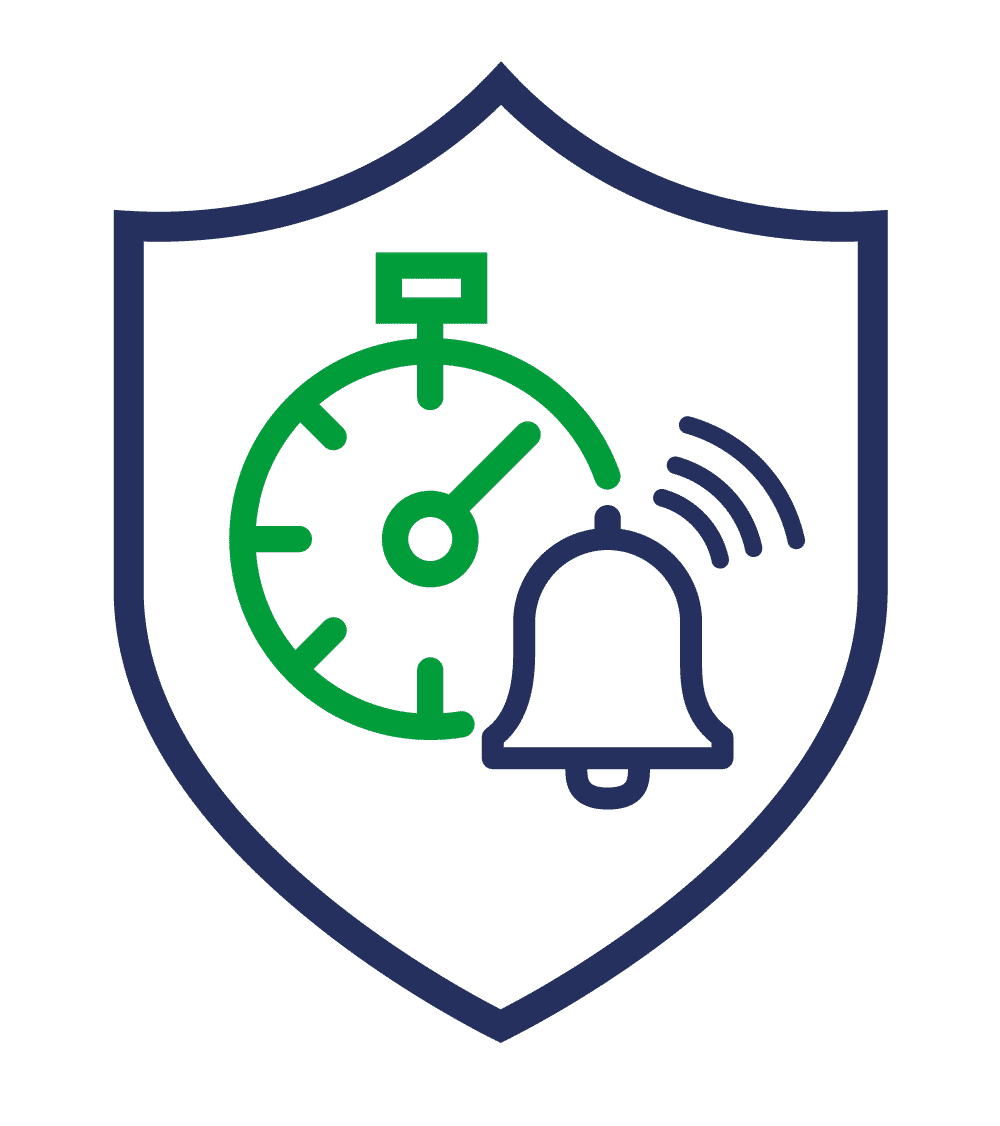 Proactive & Professional Services
LRQA Nettitude's proactive Incident Response services help to evaluate your current Incident Response strategies and help you prepare no matter what stage or maturity level you are currently at. You can also use unused IR days against these proactive services ensuring you get the best value for your investment.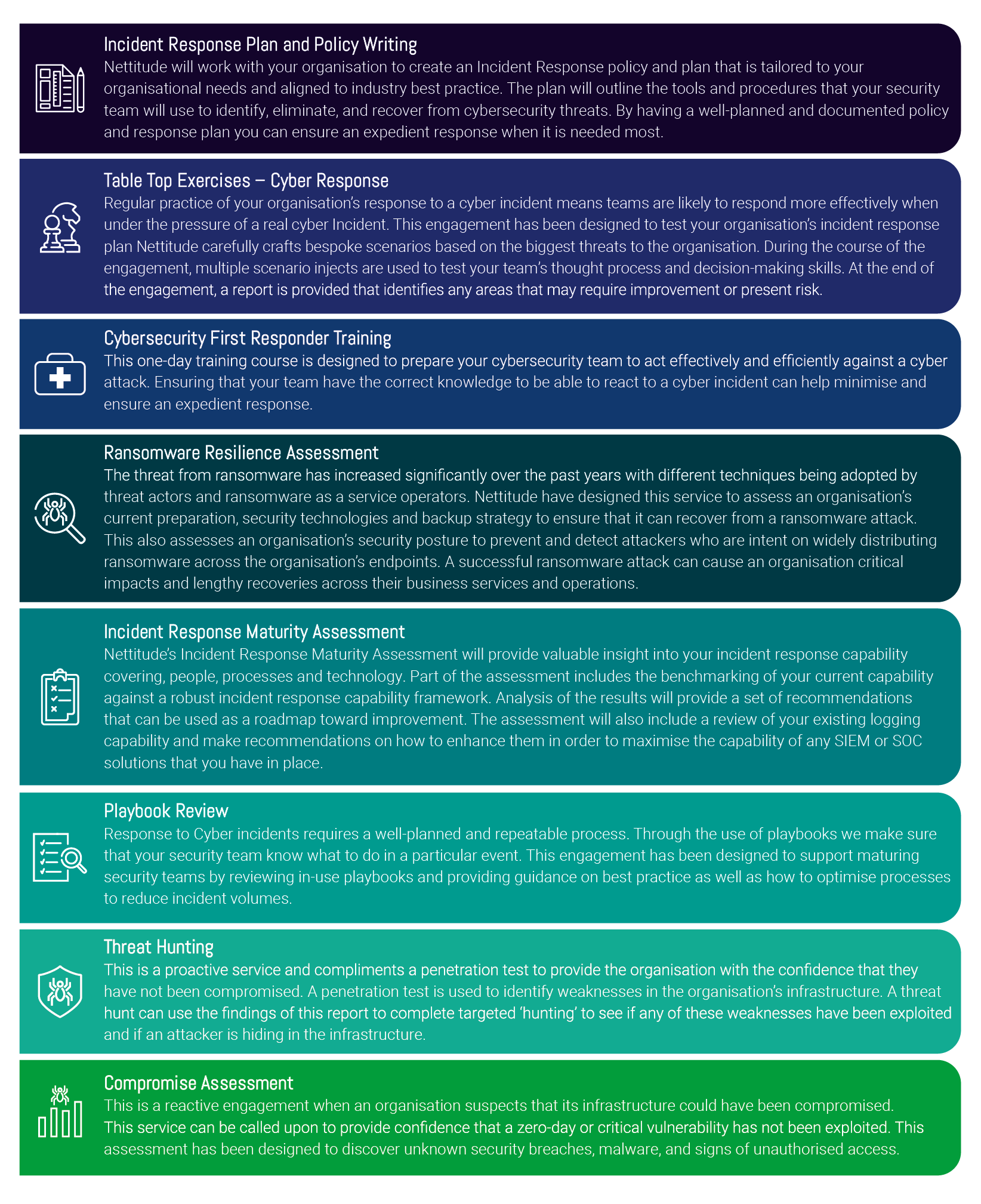 Why a Cyber Incident Response Retainer from LRQA Nettitude?
LRQA Nettitude can provide expert, rapid response to a major incident resulting from a cyber-attack. When the stakes are at their highest, LRQA Nettitude's use of industry-leading tools, best practice recovery techniques, and multiple forms of intelligence allow us to provide a deep, thorough service to help your business minimise the damage and move from initial detection to recovery as quickly as possible. Our incident response service includes technical analysis, determination of containment, and investigation through to root cause. LRQA Nettitude also provides digital forensic investigations in the event of suspected criminality, as well as assistance in managing impact in business, operations and risk.
As a member of the CREST Certified Security Incident Response (CSIR) scheme, you can rest assured you are partnering with a credible IR provider.
Frequently Asked Questions About Incident Response Retainer Service
What aspects of Incident Response Management can LRQA Nettitude help with?
Whether your business objective is to ensure that there are cybersecurity experts on the sidelines to support your business or you are guided through the complex, modern-day digital landscape, the LRQA Nettitude Cyber Incident Response Team (NCIRT) can help you in the following ways:
Proactive, preparatory, and advisory services
Certified Incident Managers and Responders to manage and address security breaches and cyber-attacks
What are the Incident Response Retainer costs?
Understanding the technological advancements over the years and the sophistication of cyber-attacks, we believe that there is no one-size-fits-all solution and quick fixes do not work. As such, our Managed Security Services leverage the expertise of trained security staff and industry-leading technologies that are tailored to your organisation's budget, size and needs. Evaluating your existing cyber incident response plan, we will ensure all incident response retainer components are integrated for optimal efficiency without compromising on affordability. Whether you are looking to entrust your entire security infrastructure or elements of it to supplement your existing plan, we have the right plan and award-winning service for you.
What is the Incident Response Management process?
Abiding by the best security practices and standards, LRQA Nettitude follows proven guidelines for incident management. From the initial risk assessment down to the regular reviewing of incident response processes so that it is updated to mitigate security threats, LRQA Nettitude will establish a full programme to maintain and improve your organisation's response capabilities.