Detect Active Directory Vulnerabilities
Active Directory Is Often an Attacker's Primary Target. Stop Them With Attivo's ADAssessor Platform Expertly Deployed By Nettitude
The Importance of Strong Active Directory Security
95 million Active Directory accounts are the target of cyberattacks every single day, with mismanagement issues such as incorrect configuration and deployment the reason why 50% of businesses are exposed to Active Directory breaches. Attivo, with their market leading ADAssessor platform, and Nettitude with our experience and expertise in successfully deploying it combine to form a reliable and trusted partnership to deliver active directory protection.
ADAssessor strengthens Active Directory protections and provides continuous visibility to exposures that are vulnerable to attack that other controls simply miss including dangerous delegations, dangerous trusts, adminSDholder inconsistency, DCshadow, and password spray attacks.
ADAssessor Critical Capabilities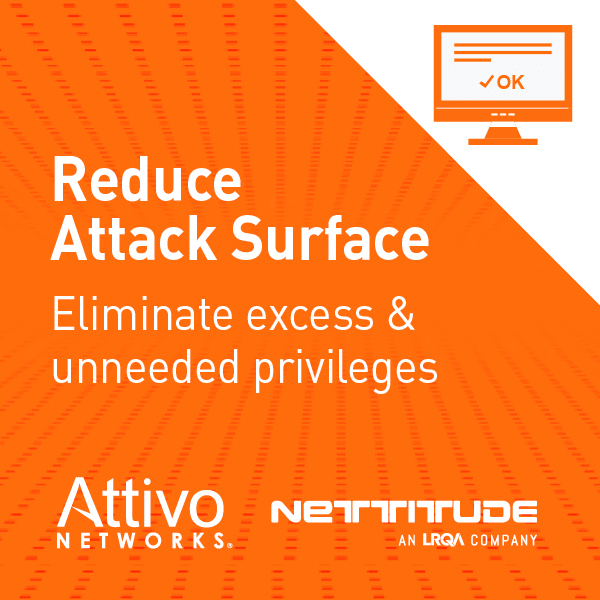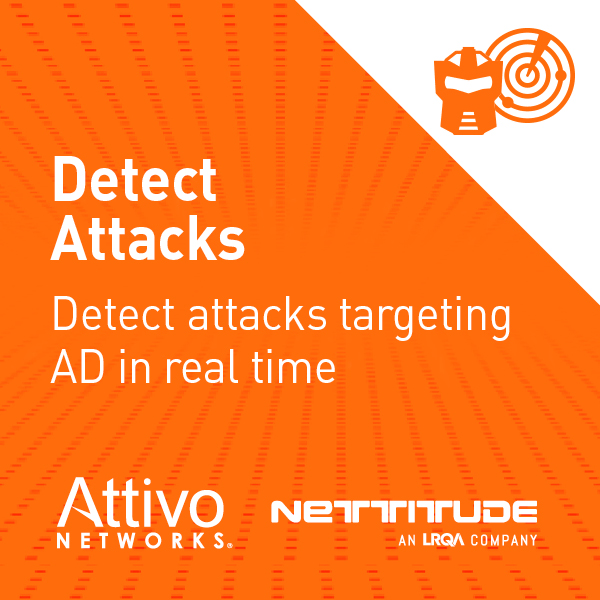 Continue scrolling or click on one of the options below to jump to the section you need.
REQUEST A FREE DEMONSTRATION
Speak to our team of experts
Resources to help protect Active Directory. Download eBooks, industry Reports, and watch the Latest webinars
Download Our Active Directory eBooks, Industry Reports, Or Watch The Latest Webinars
Nettitude's Managed Active Directory Protection Service
Active Directory Mismanagement And Incorrect Configuration Exposes Organisations To Breaches. Nettitude's Highly Accredited SOC-as-a-Service Ensures Protection From Own Goals
The best tools require the best operators to correctly configure and maintain them to ensure they are always working to their maximum potential, and are effectively stopping cyber threats.
Protecting Active Directory is hard, but while this is an undeniably important task, a successful cybersecurity strategy means focussing on a lot more. Thanks to our threat intelligence-led approach, Nettitude have the answers to correctly implement the required technologies and realise the returns on your investment.
Benefits of a Managed Active Directory Strategy from the Nettitude SOC
Switched on 24/7/365. A Managed Active Directory Protection Service can provide a level of visibility, security, and performance that can be difficult to maintain in-house, in regard to availability, expertise, and cost. It can be utilised by organisations who have limited resources and expertise to ensure it is always working to its true potential, 24 hours a day, 7 days a week.
Advanced Expertise. Nettitude has been at the forefront of cybersecurity since 2003 and our teams have extensive experience with all the security tools that are required to protect to organisation. This means correct deployment and configuration to avoid any own-goals and round the clock monitoring and alerting. Our consultants can also provide guided and assisted hands-on technical remediation support to help guide your teams to implement recommendations to contain, eradicate, and reduce the risk of future compromise.
A Range of Services and Solutions All in One Place. Your cybersecurity strategy should include a lot more activity than just protecting Active Directory. All the different components of your wider strategy will have their own function, such as protecting your firewalls, cloud estate, mobile applications, or your endpoints. You may choose to deploy software to detect suspicious activity on your network or to misdirect attackers. All these tasks can be executed successfully by Nettitude through our network of strategic technology partners. We also ensure these technologies work together, and provide comprehensive security coverage through our globally deployable SOC. Nettitude also enjoy market leading partnership discounts with companies such as Attivo and have excellent supply chain agreements with them.
Greater Efficiencies. Advanced Next-Generation protection means more threats against Active Directory are blocked at the point they land, meaning less remediation is required and false-positive alerting is reduced.
Incident Response. Today, organisations are judged on how they respond to a breach, and the Nettitude SOC provides a world-class Incident Response (IR) service. The consequences of a cyber attack can include financial and data loss, an inability to operate as usual, and reputational damage, but how significantly these impact an organisation will often be closely linked to the level of response. It is vital that the time between the Mean Time to Detect (MTTD) and Mean Time to Respond (MTTR) is as short as possible. Sophisticated detection, response and forensic capabilities means our defensive teams can contain and limit harm quickly, while automated blocking and live features ensure a rapid response in real-time.